Fill out the form to access your free eBook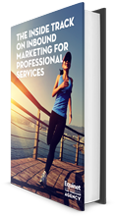 Change is a fact of life – and of business – but, today, it's arguably occurring at an unprecedented rate.

Referrals have traditionally been the go-to method for garnering business for professional services. However, while word-of-mouth is still an effective tool, it is no longer enough on its own.
Conventional sales and marketing simply don't work like they used to – so, how can you effectively reach the people that matter the most to your firm?

An inbound approach fits the bill – but what does this mean and what does it look like in practice?

Download this guide, which includes:
How selling professional services is changing
The inbound approach and methodology
Defining your inbound strategy
Fill out the form and we will send you the guide.