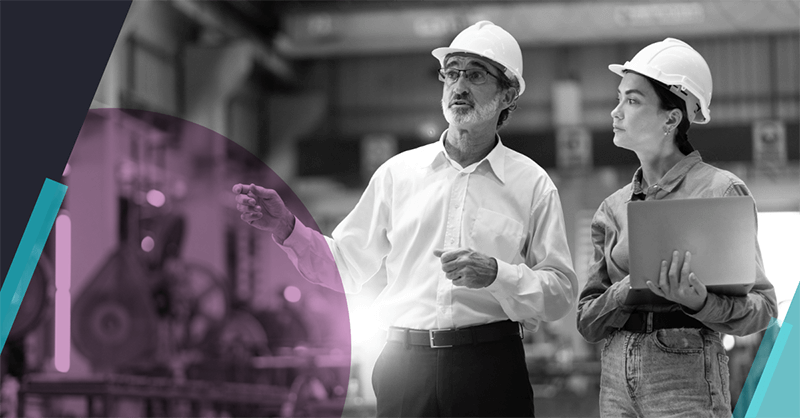 Research conducted by Make UK indicates that there are currently 95,000 unfilled positions within the UK's manufacturing sector. In fact, according to a study by Deloitte and The Manufacturing Institute, US manufacturing is expected to have 2.1 million unfilled jobs by 2030. Considering this context, what strategies could your company employ to enhance its recruitment and retention of skilled talent?
Manufacturing needs the best talent
With the rise of Industry 5.0 and a new era of generative AI promising to transform the Contract Manufacturing world, the race is on to attract highly skilled and motivated people to your business.
But attracting the right talent is not a question of throwing money at the problem.
Recruiters realise that job moves are not just based on salary anymore - but increasingly on an appreciation of their future employers' values and business culture. In fact, Glassdoor's recent survey of job hunters found that:
56% of candidates say that company culture ranks above salary in their job search.
73% of job seekers would not apply for a job with an organisation that did not share their values.
Talent is curious - but they want to know the truth
When they're looking for their ideal role and an employer who understands their needs and shares their aspirations - candidates are not just taking your or your recruiters' word for it.
Whether you like it or not, in the digital age, your candidates carefully research potential employers in every way they can. From registering with sites like Glassdoor to combing the web for candid reviews and employee's social media feeds, your future staff are looking for a clear view of business culture and what life within your company might be like.
That's why companies spend thousands on developing their 'employer brands', working with agencies and consultants to help develop their image and capture the attention of the best talent.
Manufacturing brands need an authentic voice
These employer brands are reaching beyond the traditional material benefits of the worker/employer relationships (wages, leave entitlement) to persuade them of the unique opportunities they offer.
"Good pay, balance, and flexibility — they're essential and we absolutely provide that. But honestly, it's not what makes us stand out. In today's job market, offering those benefits is expected. In our employer branding, we prefer to emphasize what makes us unique."
Michaela Schütt, SVP, Head of Global Talent Acquisition at Siemens
Why you need to build an employer brand
Tech brands have long understood this need and worked on building employer brands that resonate with ambitious talent. They've built EVP (Employee Value Propositions) that speak with a unique voice and carefully define what makes them different.
Here's an example of a highly distinctive EVP statement from the tech firm Shopify:
We're Shopify. Our mission is to make commerce better for everyone – but we're not the workplace for everyone. We thrive on change, operate on trust, and leverage the diverse perspectives of people on our team in everything we do. We solve problems at a rapid pace. In short, we get shit done.
This comes straight from the world of disruptor tech, reflecting a worldview and a target workforce that is uncompromising, world-beating and ambitious.
But in the manufacturing sector, companies have been less successful in building reputations for being exciting, forward-thinking employers who want to change the world.
The manufacturing 'image problem'
As Dr Robert Stewart of the University of Strathclyde argues in his 2023 survey of the sector:
"Manufacturing is… seen by young people in the UK and US as an old-fashioned industry, low paying and male-dominated, offering large numbers of dull, insecure, and dead-end shifts in factory jobs"
And other research backs this up:
25% of candidates say manufacturing has an image problem. (Essentra)
Only 39% of respondents thought manufacturing jobs required creative, innovative and problem-solving skills. (Deloitte)
Diversity and inclusion: manufacturing is lagging behind?
But it's worth noting that these notions of an old-fashioned industry, slow to transform and lagging in diversity and inclusion is, for many, a reflection of reality:
Just 2% of manufacturers' average workforce age is below the age of 30.
Minorities only make up 5% of manufacturing companies' boards.
Women only make up 18% of manufacturing companies' boards.
47% of manufacturers are not regularly assessing their ED&I status in their business.
Source: University of Strathclyde
Yet that doesn't mean there isn't the drive and ambition within the industry to embrace diversity. Or an appreciation of the role inclusivity must play in driving future growth. Or an internal recognition of the extraordinary innovative and creative power emerging from the manufacturing sector worldwide.
It's just that they're not always expressing these ambitions in ways that the world can hear.
Researchers say manufacturers must be more consistent and authentic in their employment branding to communicate effectively with future talent.
How can you harness your brand to recruit and retain talent?
Your employer brand is the perception of what it's like to work at your company, how you treat your people and what you 'stand for'. Employer branding is the expression of these core attributes. In other words, how you convey them in all your digital output and dealings with the world.
"Employment branding is storytelling—and you are the author. If you do not proactively create your employer brand, that brand will be defined by others"
Source: IQ Talent
What's your story?
Where have you come from, and where are you going?
Human beings love a story; it keeps us turning the pages of books and glued to our seats with a good film. We want to know why people do what they do - how things came to be - and what happens next in the narratives we follow.
In the same way, prospective talent wants to know more about your story. They want to understand where you came from and where you are going. They want to meet the characters shaping the company's fortunes and imagine how their skills, talents and passions could help shape their story in the future.
How Google tells their recruitment story
Google's career pages tell a comprehensive story about their founding values of community and inclusivity. They use video, infographics and employee testimonials to explain their values, building a vision of day-to-day life in their organisation and how their benefits packages add value to the lives of their employees:
"Our benefits are based on data and centred around our users: Googlers and their families. They're thoughtfully designed to enhance your health and well-being and generous enough to make it easy for you to take good care of yourself (now, and in the future). So we can build for everyone, together."
The pages guide prospective employees through the application and interview process with videos and blogs featuring the real-world experiences of candidates and employees.
The pages describing their benefits share the real-life stories of employees who have been helped and supported by their health and training packages and their relocation and promotion schemes.
What does your website design say about you?
A brand's 'look and feel' can help tell your story in how it welcomes and guides its visitors. It showcases its capabilities, talents and industry knowledge.
How you focus on digital design suggests your commitment to everything from customer service to user experience. And it builds confidence in a prospective employee.
Clean navigation, great copy, and slick tech characterise Google's careers pages:

Why your brand voice matters to talent
Your brand voice can speak in a way that your prospective employees will identify with - or it can alienate them or cause them to click away.
On their careers pages, the digital agency WP Engine speaks directly to their target audience with a potent message about employee empowerment that really hits home.
So, what messages are your digital assets sending about your values and priorities as a company? Are you approaching the challenge of communicating with prospective talent in engaging, creative and entertaining ways?
What do your people say about you?
Your 'About Us' and 'Careers Pages' carry formal statements of intent and descriptions of what you offer:
Mission, vision and values
Diversity and inclusion undertaking
Employer value proposition
Vacancy listings
But these are just your words!
There is a broader palette to paint pictures of your life in your business. You can encourage your people to be active on social media and become brand content creators in their own right.
You can get your team to blog about the ESG and employment issues that are important to them. You can profile the community projects you work on and why they are important to you. These can be repurposed as social posts and videos shared with third-party news outlets and on the personal social feeds of your workers.
Your team can become influencers and agenda setters in their professional area of expertise and how they think and talk about working in the manufacturing sector.
What's your purpose?
What does your brand stand for in the world?
It's a big question. But it's one ignored by many manufacturing companies in their employee branding.
The manufacturing sector is responsible for the most extraordinary leaps in technology. They are building the sensor tech, robotics, energy production and transportation that will transform our ability to serve and save lives. Yet these companies' employer branding rarely expresses these achievements to entice future innovators.
In contrast, tech companies from Amazon to Open AI have designed branding to capture each generation's most brilliant minds. Silicon Roundabout and Silicon Valley draw all towards them through their centrifugal force. Start-ups, scale-ups and tech behemoths have created extraordinary employer brands in these technical hubs - that speak about a higher purpose, a grand vision to change the world, a call to arms for the most gifted to come and invent a greener, more inclusive future with them.
Why? Because it's what workers want and what a new generation demands.
Millennials, in particular, say they will turn down jobs if a company's values clash.
64% of millennials said they definitely wouldn't take a job at a company that wasn't socially responsible.
75% said that they'd take a smaller salary to work at a company with environmentally responsible policies.
Source: Unily: Future of the Sustainable Workforce
To succeed in speaking to a new generation of job hunters, you need to help them understand how your brand makes a difference in the world.
Conclusion
Are you giving prospective employees reasons to come and work with you over your competitors?
Your website and social feed are a shop window for customers and workers alike. So, what are they saying about your brand and what you stand for? Does your brand speak to your mission and purpose - does it give a sense of your unique personality and priorities as a business?
If your 'brand' is no more than a set of features and a rate card - a bland echo of every other company in the manufacturing sector - you're missing a critical opportunity to engage and inspire the talent that should be driving your future growth.