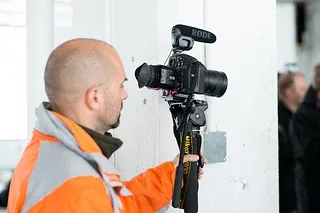 Video marketing has become one of the most powerful and exciting tools available to B2B organisations in recent years. It's particularly effective at engaging time-pressed buyers and executives, and can quickly generate great interest in what your company has to offer. But what can you do to ensure that viewers convert into new clients?
1. Start with an attention-grabbing concept
Without great concepts for your videos, none of the other points matter. Brainstorm ideas around the key stages of your sales funnel.
Top of the funnel videos should focus on informative and educational content. Demonstrate your expertise and authority in the field in a non sales-y manner.
Middle of the funnel videos should demonstrate how your products and services solve a problem in your market.
Bottom of the funnel videos should be about engaging viewer action, for example providing demonstrations of how to get started with your product linked to a free trial.
In each case, drill down to why people will want to watch it. Whatever the concept, hone it as far as you can before you get anywhere near the camera.

2. Use only professional quality recordings

Tempting though it may be to save money by using the same handycam you use at family get-togethers, to get serious results from your web video, you need to use good quality equipment and expertise. With so much video content out there, people can tell if it has been shot using low quality technology, even if only sub-consciously. As well as being more effective, professional quality video provides a positive reflection on your company and services. Unless you have the experience and equipment, it's a sound investment to outsource production and have it edited professionally.

3. Make full use of a visual medium

Too often, businesses don't make the most of online video's potential, and simply record themselves speaking into a camera for five minutes. While this may sometimes be appropriate, it is often possible to convey a greater amount of information in a more attractive and succinct manner, through relevant use of graphics and other visual cues. Wherever possible, don't just talk about what you offer, show it.

4. Make it clear what you can do for the viewer

Buyers and decision makers aren't watching your video for fun or their own enjoyment (though it may certainly help your cause if you can provide this as a secondary function). They're watching because they want to know what it is you have to offer. Don't talk too much about your company or its products; instead, focus on what your products or services can do for them.

5. End on a strong call to action

They're impressed by your concept, relished the high production values, took a lot away from your graphical demonstrations and are convinced you have something good to offer them; so what next? Don't make them hunt out a way to act on what they have seen in your video, put it right in front of them. Ending your video with a call to action is vital for maximising video marketing ROI.

To find out more about using video marketing in your business download the video marketing whitepaper below.

Image by: Pieter Baert