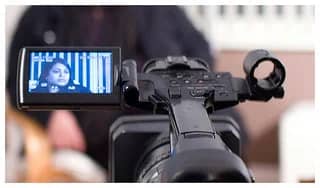 Of all the types of content you can create as part of an ongoing content marketing campaign, there is one that has arguably the highest impact on an audience, but seems to be the least understood, particularly in the B2B arena: Video.
It's the vehicle of choice for a growing number of business owners and executives in need of information. A recent Forbes report, Video in the C-Suite, showed that
75% of executives surveyed watch work-related videos on business websites

50% watch them on YouTube

Most important, 65% of those executives say they then go on to visit the business' website.
These figures are growing as younger generations of business people enter the C-suite.
All those figures sound like something you want to take advantage of, but can B2B really be exciting enough for video? How do you bring those messages to life?
Every organisation, be it a manufacturer, a supplier or a business services provider has a story to tell. Think about the solutions you provide for your customers and why you love providing them. The main ingredient you need for compelling B2B video is passion. Your interest and expertise will come across in video in a way that it can struggle to with the written word.
Look at VeriSign's hilarious video "The Cart Whisperer". Let's face it, shopping cart security sounds pretty dry. But VeriSign came up with a great story line that illustrates their offer with humour.
Cisco is another organisation that effectively uses video to convey their messages and demonstrate what their brand stands for. Their video Big Things are Happening delivers a huge number of facts and figures in a digestible and entertaining format.
Salesforce is another prolific video producer. It has its own YouTube channel that contains an archive of corporate videos, product demonstrations and best practice tips alongside interviews with business leaders. It's a repository for any information you would want to know about their products, providing its 20,000 subscribers with a place to return to again and again.
Admittedly, these are huge corporates that have budgets and resources to match. But size and money aren't prerequisites for creating good videos. With video cameras becoming more available and tools like YouTube and Vimeo making it so easy to distribute, creating exceptional B2B videos is easier, and less expensive, than ever.
But before you start investing in producing videos for your company, you need to be clear about what you want to achieve. It's helpful to think of three stages of the customer journey and how different types of video can help each stage:
Awareness: these videos create brand awareness and connect with people on an introductory level. Use creative videos showing your organisation's human side. Humour, emotion and the element of surprise work particularly well as they lead viewers to share, tweet or blog about the video.

Engagement: these videos help to create social engagement and interaction with customers. Examples are "How To" guides, video blogs and demonstrations of employee expertise. These can help to position you as a thought leader and a valuable resource for potential customers.

Conversion: these types of video work directly to allow the audience to make informed purchasing decisions and increase conversion rates. Good examples are product or service specifications, webinars, case studies and client testimonials.
Of course, if you're already creating content, much of it can be repurposed or enhanced using video.
Use video to introduce a white paper and highlight its benefits

Video blogs can sometimes be more effective and educational than written ones, particularly if you're discussing a complicated concept or solution

Video tips on better and more efficient ways to use your product are great middle of the funnel content

Interviewing experts within your organisation can help reinforce your industry expertise

Interview clients who love your service and want to share their enthusiasm for your business
No matter what type of video you choose for each part of the customer journey, it has to be something that your viewers want to watch and, ideally, to share. The primary goal of every video you produce should to be to educate your target audience by exploring the issues they face and providing answers to their concerns.
If you can entertain them at the same time with humour and original thought, then so much the better for your brand and reputation!
Have you seen any great examples of B2B videos that educate and entertain?
Image by: jsawkins