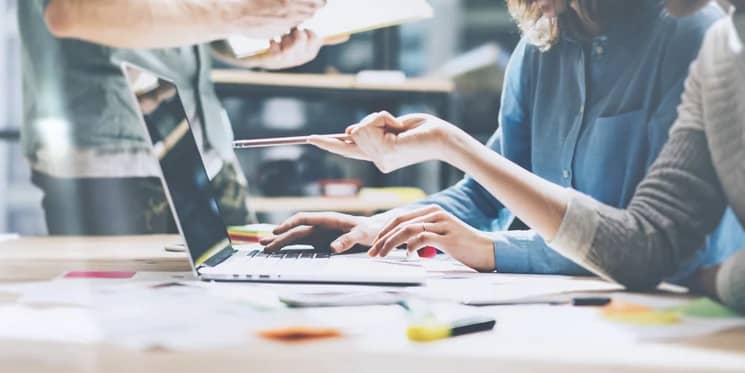 The HubSpot CMS just got better. That's not only good news for the 63% of marketers investing in a website upgrade this year, but for all marketing managers struggling with the day-to-day frustrations of managing their site.
HubSpot has launched the new CMS Hub - a content management system that promises to "take the pain out of managing your website so you can get back to focusing on the customer experience."
But what is CMS Hub, exactly? And how can it help you manage your website?
What is the new CMS Hub?
CMS Hub is the newest product in HubSpot's suite of easy-to-use marketing tools. There are two tiers; Enterprise and Professional, and each is designed to take the pain out of website management so that marketers can stay focused on delivering remarkable experiences for customers.
CMS Hub Professional
This is the next evolution of HubSpot's current CMS, and is designed for growing companies. It includes a range of new features that make it easier for both marketers and developers to work within the CMS.
CMS Hub Enterprise
Hub Enterprise comes with everything found in CMS Hub Professional, and more. It's suitable for scaling companies who want more governance over a growing team. For instance, as a marketing manager of a growing team, you'll have full transparency of what's happening across your site through activity logs and user permissions.
Key benefits:
Manage your blog and website all in one system
Works seamlessly with the Marketing, Sales, and Service Hub - as well as the HubSpot CRM (which comes free with the CMS Hub)
Prioritises control and ease-of-use - spend less time focusing on your systems and more time focusing on your customers
Create and edit content without having to ask developers for help
Deliver more dynamic and personalised user experiences
CMS Hub comes just as marketers seek easier solutions for managing their website and as customers seek a more valuable, personalised experience.
Marvin Hintze, Marketing Manager DACH at HubSpot, comments in the State of Marketing 2020 report;
"Websites have come a long way from serving as digital business cards to being everything but that. For marketers, 2020 will be all about reducing complexity (even more) and creating a concise and transparent user experience. In the end, our goal must be to provide users with the information they want, when and where they need it. To achieve this, a compelling and straightforward design, adhering to accessibility standards and personalization are indispensable."
So, what are the key features of CMS Hub that make all this possible?
Themes - make quick changes to pages with ease
You just want to make a quick change to a web page - add an event to your event listing page or swap out a logo. But you have to wait for a developer to do it and they don't have time until next week…
Sound familiar?
This is where themes comes in useful. It gives you back the control, making your life that little bit easier. A theme is a collection of assets such as modules, templates and CSS files that makes the content editing experience easier for marketers. HubSpot has a range of themes or your developer can customise a theme for you.
Drag and drop page editing - get your page looking exactly how you want it to look
Ever wished playing around with your website layout was as easy as moving things around in PowerPoint?
If only…
But the new CMS Hub goes a long way to reduce the pain of trying to get your website page looking exactly how you want it.
Maybe you want to make a column slightly wider or add a call-to-action (CTA) to the top of the page. This used to mean updating the entire page template, meaning every single page using that template would be impacted. We've all been there; played around with something on one page and inadvertently set off a wave of problems across the rest of the site.
Now, you can make these changes on one specific page, without having to call in your web dev team for damage control. Building your page using themes on the new CMS Hub allows you to edit your page using simple drag and drop functionality, so you can get it looking exactly how you want it to. You can even insert CTAs, forms and videos in just one click to capture more leads.
Multi-language page testing - deliver a better web experience across multiple languages
Are you managing a website in multiple languages?
With the new CMS Hub, you can now run A/B tests on language variants of your pages.
If you have CMS Hub Enterprise, you can also run adaptive page tests. Machine learning automatically tests up to five variations of a page so your customers will automatically be met with the version of the page that performs best.
Memberships - take personalisation to the next level
Personalisation is no longer a "nice to have" - it's an expectation.
With CMS Hub Enterprise, you can create powerful, personalised experiences with ease. And we're not just talking about changing an image to match the industry a visitor works in, but providing personalised content tailored specifically for them.
The memberships feature allows you to create content that is visible only to select customer lists, as determined by the HubSpot CRM. New contacts can be added to these lists (e.g. via workflows), and they will immediately be given access to these areas.
For example, you can create pages on your website that only certain visitors on specific lists within your CRM can access. Like a 'My Events' page, for instance, showing all the events one of your buyers has signed up for with your company in the past.
Serverless functions - enable a more interactive user experience
With CMS Hub Enterprise, serverless functions allow you to add interactive elements like event registrations and tailored deals to your HubSpot-hosted content without needing to configure an external server.
It creates a more 'app-like' experience on your website. For example, you could work with developers to create an eBook reader module within your website, so visitors can download and read an eBook right away, while still on your site. And if they don't read the whole eBook, you can bookmark their place and allow them to pick up where they left off when they come back to it later.
Dynamic content with HubDB - start growing your site
Also available with CMS Hub Enterprise, HubDB allows you to create web pages that reference content within your datatable. So if you change the content within your datatable, that information will be updated wherever it's referenced, across your entire site. This is great news for when you want to update your calendar, product catalogue, or pricing data.
Activity logs - full transparency over what's happening across your site
As your team grows and more people are involved with your website, it can become impossible to keep track of what's happening. Activity logs in CMS Hub Enterprise give you complete transparency; you can see what changes are happening across your site, who's making them, and when.
Brand domains - getting you ready to scale
CMS Hub Enterprise also comes with two brand domains, as well as the ability to buy more as and when you need them. So as your business grows and you need multiple websites, you'll have the facilities there to manage them simultaneously all within one CMS.
Analytics tools - greater visibility of site performance
CMS Hub makes it easy to see how you can improve your site, with an SEO recommendations home screen. It's also easy to analyse the impact of your website with contact attribution reporting, which enables you to dig into the content and campaigns that are driving the most leads.
Summary
As it says on the tin, CMS Hub takes the pain out of managing your website. No more relying on developers to make simple changes. And as it connects seamlessly with other HubSpot tools, it provides a one-stop platform as you grow and scale. What's more, it enables you to deliver personalised and remarkable experiences for your customers that will see them coming back for more.