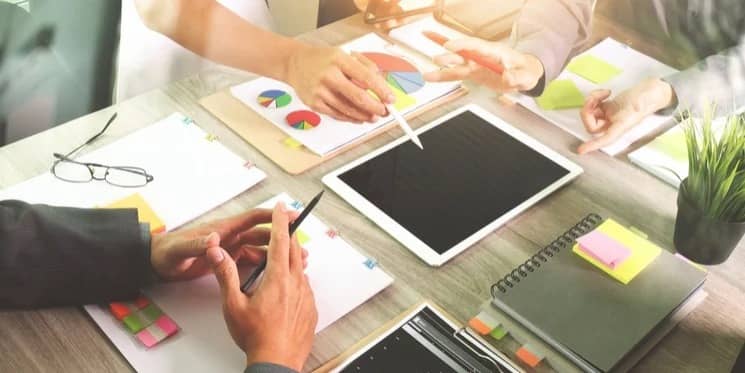 If you've been involved in a website redesign before, you may not have fully enjoyed the process. Did it take longer to launch than anticipated? Was it over budget? Maybe there was a significant up-front cost?
These are common pain points.
But what if you could take away the pain of traditional web builds?
What if there was a faster, more agile process that would produce better results and ROI?
Well, good news - there is. If you haven't heard of it before, it's called Growth-Driven Design.
The problem with a traditional approach to web design
The average small to medium-sized business website can cost anywhere from £10,000 to £50,000. That's a large up-front cost. And you're coughing that up before you even know what impact the website will have on your business.
Beyond the obvious monetary commitment, you have to consider the amount of time, effort and resources it will involve. Creating or re-launching your website is hard work. And the typical SME website takes three to six months to create. Even if you're outsourcing it all, the entire process will still demand a great deal of energy from your team to get it right.
With so many moving parts, people and steps involved, it's also difficult to accurately determine the final costs and how long it will take. For this reason, it's common for a project to be delayed and/or go over budget.
After all this, there's still no guarantee that what you finally launch will be the best possible performing website for your company.
And post-launch, a website typically sits with no major updates for 18 months to two years. Whatever the reason is: "No time", "Spent all our budget", "Other focuses" etc; we let our website, our number one marketing asset and best salesperson, sit relatively unchanged for years.
This is clearly not the best way to maximise website performance.
A smarter approach
Change is a constant for businesses today. In response to this, companies across all sectors are looking for ways to be more agile, adaptable and innovative.
You need to apply the same type of thinking to your website.
The stark truth is that your website is the centre of your marketing activities. You wouldn't ignore your marketing for a year. So why let your website sit and gather dust?
But we're not talking about regularly redesigning your entire website.
We're talking about continuous improvement.
Growth-Driven Design: in a nutshell
Growth-Driven Design is a new approach and way of thinking about building your website; one that focuses on continuous improvement.
GDD avoids the risks of traditional web design by taking a systematic approach to shorten the time to launch, and then constantly researching, testing and learning about your visitors to inform ongoing website improvements.
It's through this continuous improvement cycle that your website can reach peak performance.
The GDD process can be broken down into four steps:

Strategy - Developing a solid foundation to build your process upon. This involves setting performance goals, as well as reviewing personas, gathering data about current website performance and speaking to customers so you can make assumptions about the behaviour and motivations of your audience. All this information helps you develop strategies for both the website as a whole and each major page.

Wishlist - Brainstorming every impactful, creative and innovative idea that you'd like to include on the site. Each item on the list should have a clear hypothesis statement for how they relate back to the goals you're trying to achieve, the personas you're focusing on and the expected impact they will have.

Launch Pad website - This is a site that's built quickly, looks and performs better than your current site, but isn't the final product. It will only have the most valuable 'must-have' items from your wishlist - the 20% that will have 80% of the impact.

Continuous improvement - Once the launch pad site is live, it's time to start ongoing cycles to continuously experiment, learn and improve on your website, using items from your continuously-evolving wishlist.
What are the benefits?
Quick to launch
Highly flexible and agile
Cost-effective
Data-driven
Time efficient
Designed around customers
Goal-oriented
Grows with your business
What does GDD cost?
The upfront cost of a GDD website is significantly less than it would be for a traditional web-build.
However, GDD will cost you more money in the long run - but for good reason. Maximising your website performance becomes a long-term project, from which you will see a return each and every month.
The pain of traditional web design is completely avoidable if you take a step back and re-evaluate both the way you're approaching your existing website and how you approach future re-designs. Companies adopting the GDD methodology are finding great success in the flexibility and results they are getting.
For a more in-depth explanation of the GDD process, download our eBook: "An Insight into Growth-Driven Design", by clicking on the image below.