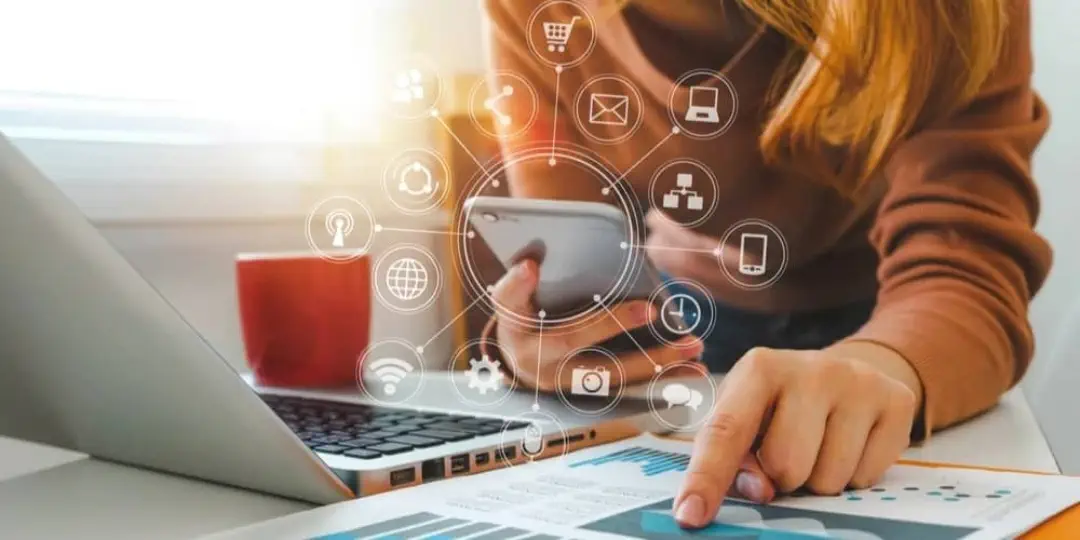 The Joe Wicks approach to social media marketing is awe-inspiring. He is a content machine, consistently producing new, informative information to keep his audience engaged. In a recent interview, he explains:
"The most negativity I get is from other personal trainers as they think I got lucky. I love a success story, but some people get jealous. I don't ever engage in negative stuff. I just ignore it and keep spreading my message."
In the incredibly crowded personal training market, it can be hard to get heard above the noise - so what does Joe Wicks do differently? I think it comes down to his core values, which we share here at Equinet, including:
Always be helping
The Joe Wicks team endorse body confidence, healthy eating and share Body Coach success stories via social channels and produce a great blog on well-being. He has solidified himself as a thought-leader through his straightforward approach to healthy eating with his 'Lean In 15' recipes, he also produces quick everyday recipes on Instagram...
"His Instagram recipes are brief clips of him slopping ingredients into a pan with the kind of zingy enthusiasm that makes Jamie Oliver look like Gary Barlow" - Rebecca Nicholson, The Guardian
Focussed on outcomes
Wicks' passion for endorsing body confidence and healthy eating is paramount to his brand message, but he is always focused on results. The constant wave of new content boosts his online presence, whether this is a new recipe or a new training method - he is always helping, informing and encouraging.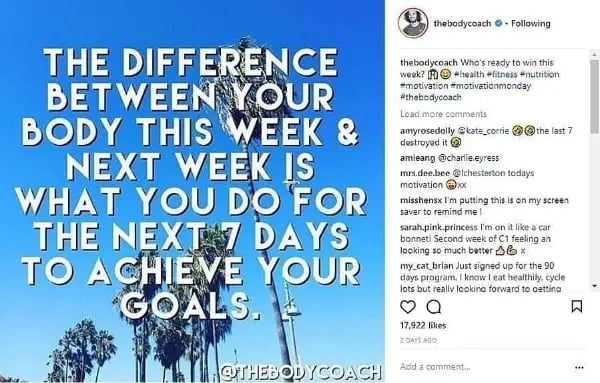 Humbly confident
You only need to watch a few of his YouTube videos to see how his humble approach is contagious. He sweats, sometimes has to stop, complains about how hard it is, gets annoyed when covered in sand and occasionally has to take an inhaler half way through the workout. Isn't this refreshing? Wicks comes across as a pretty normal bloke (with big hair).
Oh, and he loves his fans who help to keep him "grounded and focussed"...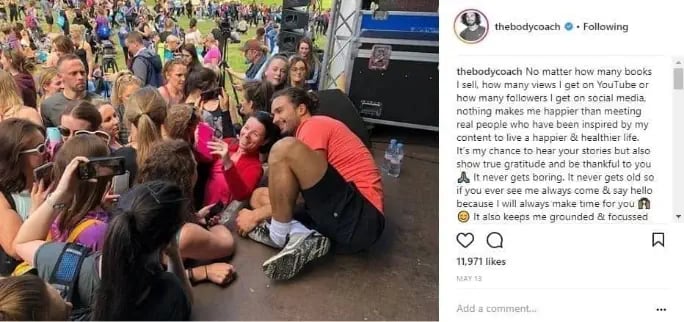 Light of heart
This is a big one, and people can't get enough of it on Instagram! They don't only want to see your business' polished version; they want an insight into your personality. Fans get to share in Wicks' humour, which often pokes fun at himself - his latest video of a failed canon ball attempt just super. This is what Instagram is perfect for!
"For me, Instagram was a platform that changed it all in terms of allowing me to create a personality and inspire people, and make a massive change."- Joe Wicks (Campaign Live)
What can we learn as B2B marketers?
Don't be dull, keep things fresh, keep the content flowing, keep it relevant and show your personality. All of this will endorse you as a thought-leader in your area and make people trust you as an authority - in turn converting leads to customers.
"As Wicks began to build momentum, he was able to monetise his social media reach by creating a digital product to help people lose fat. He believes it takes him between six and 12 weeks to convert followers into customers."- Gurjit Degun, Campaign Live
You have to become antisocial to become a social media star. In the early days, I was addicted to social media. I had to be on it and be engaged. When I was with my family and friends I was just constantly on my phone, replying to everything. But now it's much more able to sustain itself although I do still probably post 10 times a day on Facebook, Twitter, Instagram, Snapchat. It's a hamster wheel.

https://www.theguardian.com/lifeandstyle/2018/may/05/joe-wicks