Fill out the form to access your free eBook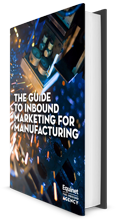 Change is the order of the day. Macro forces are combining to place intense pressure on organisations and entire industries. The manufacturing sector is no exception – most notably, the Fourth Industrial Revolution (and all that it entails) is looming large.
Against this backdrop, the way that customers interact with manufacturing companies (and, indeed, all companies) is also changing. To remain relevant in today's uncertain environment, it's vital to ensure that you can effectively reach the people that matter most to your business.
However, conventional sales and marketing simply don't work like they used to – a new approach is required.
An inbound approach fits the bill – but what does this mean and what does it look like in practice?
Download this guide, which includes:
Are you adapting to change?
The role of measurement in manufacturing
Why manufacturers struggle with marketing
The inbound approach to marketing for manufacturing
The inbound methodology
Fill out the form and we will send you the guide.