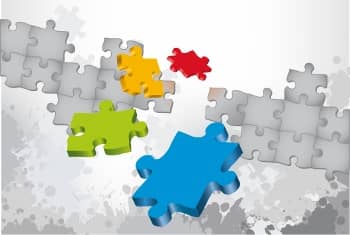 These days people expect engagement through a myriad of different platforms including social media, eNewsletters, video podcasts, white papers... the list goes on. And they want to see content that is original, is of high quality, speaks with authority and is from a trusted source.
A winning B2B content strategy is one that will deliver all of these things, which suits your organisation (particularly its size and business type) and provides the right content in the right way to your audience. But where do you start? The following checklist will help you to organise a publishing strategy that works for you and achieves measurable results.
Define your goal: What outcomes do you want to achieve? Brand awareness, in­creased sales and/or an increased reputation? Is it about developing your corporate reach or achieving some recognition for your expertise in your field?
Define your audience: This is largely connected with your goal. Who do you need to talk to in order to achieve your outcomes? Sales managers, marketing managers, CEOs, IT managers… you may need to talk to one or more people across one busi­ness, let alone one industry. In this regard, try to flesh out a persona for each of these audiences – what are they interested in, what are their pain points, what do they need from you – and have these personas in mind whenever you are creating and distributing content.
Define your resource and budget: Do you have writers, editors, developers, design­ers and/or social media experts in-house? If so, do they have the time and skill to deliver your content marketing strategy? If not, who will you outsource it to? How much budget do you have to cover this?
If you are planning to have a custom magazine or thought leadership videos – basi­cally, anything with meaty content - then it is a good idea to identify contributors within your company and also your extended business network (providing that they are not your direct rivals!). For example, your head of product could present a short video on innovation; a supplier who you work with could write an opinion piece in your magazine or on your blog.
Define outsource and ownership options: if you are going to outsource all or part of your content marketing, then talk to a few contractors to find out what they could offer you and what their ideas might be. This will help you to connect with the right kind and amount of help. Ultimately, whether you outsource or not, you need to have one person internally who owns the project and can oversee all of the work being done. This person should also be responsible for evaluation and review.
Do a content inventory: what content do you already have that can be used or adapt­ed to fit a new purpose? Search your website, direct mails, marketing materials, press clippings, brochures, presentations and speech notes. You'll be surprised by how much useful collateral you can amass.
Organise your content inventory into a database that details which topics are addressed and the formats they are in. This will help you to decide what new content you need to produce, and what old content can be reused as a starting point. Give some serious consideration as to which forms of new content you wish to engage with: are you ready to establish a blog, for instance; have you already got a social media presence that you can better deploy? To give you an idea of what others in the B2B content marketing field are doing take a look at this: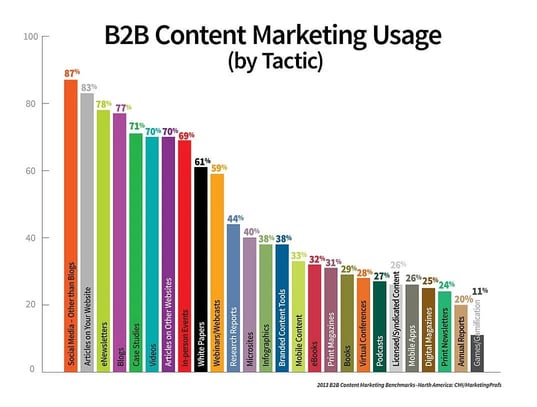 According to figures published last month from the 2013 B2B Content Marketing Benchmarks report B2B marketers are using more tactics within their content marketing strategy. Social media is currently the most used content marketing tactic (cited by 87% of the report respondents), followed by "articles on websites", "eNewsletters" and "blogs" (used by 77% of marketers). With B2B marketers using, on average, around 12 of these tactics, you should decide which of them your business ready to embrace for your content.
Define your business' "sweet spot": What is your company an expert in/its real area of authority? What one thing do you uniquely do/make/offer that others in your market don't (or not as well as you do)? Finding your content "sweet spot", according to marketers like Doug Kessler, can help you develop the direction of or a focus for your content, ensuring differentiation and specialisation for anything you produce. Re-examine your content inventory (as described above) and consider which of your topics suit which section of your identified audience. Indeed, this is the point where you define what you want to say to each section of your audience.
Write a content schedule: although there is a need for flexibility, you do need a timetable to work with. This is where you outline what you will do during the coming months and how you will do it. Remember that nothing in your strategy should be published in isolation. Your content schedule should detail how all of the strands are going to work together. When you produce a white paper, for example, publicise it on Facebook and Twitter, make a taster for it on your YouTube channel, and also trail it in your blog. When blogging, use a routing application, for instance Dlvr.it, to distribute it to LinkedIn, Twitter and other sites – this will save you time.
Measure, evaluate, review: evaluation is key for the development of a success­ful content publishing strategy. The good news is that there are lots of ways of measuring your content strategy ROI for evaluation and improvement: surveys, feedback forms, social media sharing measures, and click-through analysis tools can all help you to see which content is being consumed, who is consuming it, and whether it is generating business leads. Armed with this information, make time to review and refine appropriate aspects your content marketing strategy (personas, tactics, resources) accordingly.
Chart from the Content Marketing Institute