The Inbound Marketing Process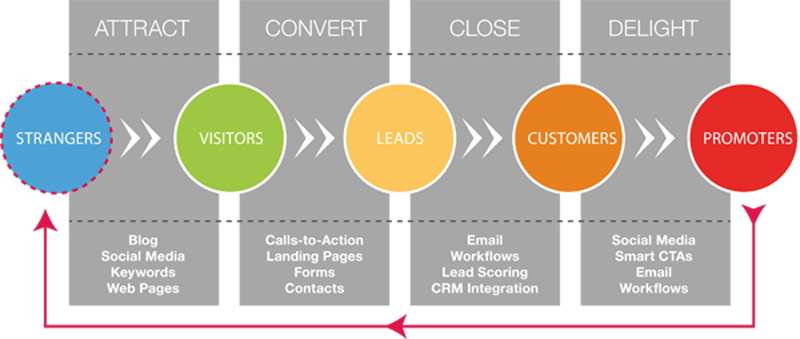 Get more website visits from people looking for what you do
The art and science of "being found" - of positioning your company front and centre when a prospect is looking for solutions like yours - is the beginning of the inbound marketing methodology and the lifeblood of a modern marketing programme built for today's savvy buyer.

Inbound marketing complements the way buyers make decisions today; they use the Internet (search engines, blogs, and social media) to learn about products and services that best meet their needs and educate themselves before engaging with companies. You need to make sure your company gets found and provides a valuable experience when they start this process.


Generate leads from the traffic to your website
Effective inbound marketing requires that you create high value content offers around the needs and interests of your key buyer personas. Once a prospect has found your website, these offers need to convert interest to action. The more relevant and compelling your offers the more conversions, shares and repeat visits you will get.
But it is widely accepted that a significant proportion of first time website visitors are not ready to buy. In fact, according to research from Hubspot, only 25% of leads are legitimate and should ever go to sales. So a process that pre-qualifies leads will likely improve your lead to customer ratio. But in order for this to work you need to make sure your website is set up for success and you have the necessary conversion tools in place.
Nurture leads into marketing qualified leads
You can spend all the time in the world building a website with compelling content but if you don't know who is finding it, returning to it, and what they are reading and downloading, you're only doing half the job. Effective lead nurturing means you know who is engaging and which content is leading to conversions, making it possible to fine-tune the process and send more effective messages to visitors at different stages of the buying cycle.
Lead nurturing campaigns are delivered through a sequence of automated emails tailored around interest shown by a visitor. Campaigns are designed to draw prospects through a buying cycle. Educational "awareness" content is replaced with content offers more related to "evaluation" and the solutions you provide. Ultimately action orientated offers deliver marketing qualified leads to your sales team.