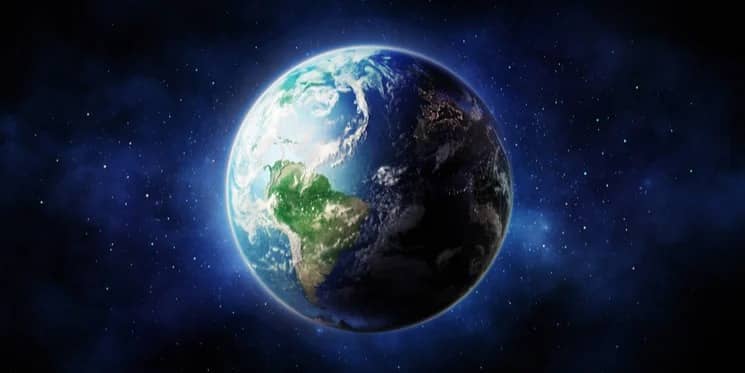 Today, people across the world will be getting involved in activities and digital events to celebrate the 50th anniversary of Earth Day.
Earth Day is an annual event celebrated on April 22 every year to raise awareness of issues like climate change and global warming. Over the 50 years it's been running, Earth Day activists have fought against issues like pollution, oil spills, toxic waste disposal and other pressing environmental protection issues.
This year, as the world battles COVID-19, Earth Day celebrations have gone digital. It will be an Earth Day like no other, with thousands of digital events taking place across the globe to mobilise people into taking positive action.
But who are the brands coming up with creative marketing campaigns to inspire us all this Earth Day?
1. Earth Day Network
Earth Day Network grew out of the first Earth Day back in 1970. Working with more than 75,000 partners in over 190 countries, they are the world's largest environmental movement to drive positive action for the planet.
Every day throughout April they have been asking people to take part in challenges to fight climate change as they stay home in the face of coronavirus. Challenges include doing a plastic audit, measuring your carbon footprint, going zero waste for a day, and eating a plant-based meal.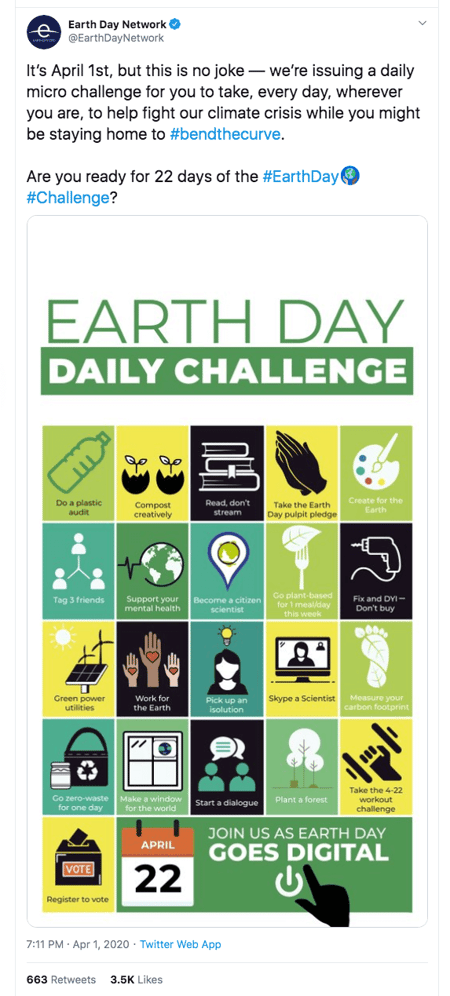 Today, Earth Day Network is hosting live streams jam packed with content intended to inform, inspire and empower viewers. There will be messages, performances and calls to action from environmentalists, explorers, broadcasters, politicians and entertainers. Visit the website for more information.
2. NASA
NASA has released a 50th anniversary toolkit with a variety of educational resources to help people celebrate as part of their #EarthDayAtHome campaign. The toolkit includes online lectures and science activities for people to enjoy at home, as well as downloadable posters, articles and stories about NASA's exploration of Earth.
They are even giving people the chance to ask questions to an astronaut on the Space Station: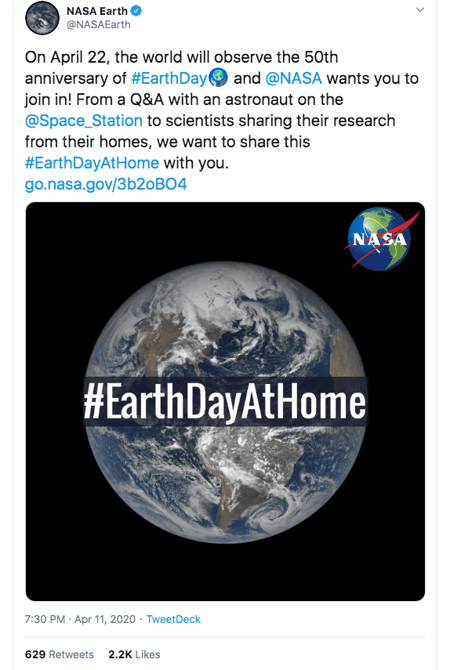 In addition, NASA has shared this video from space to reaffirm their commitment to protect and improve life around the world:
3. Apple
In honour of Earth Day, Apple has released a short film available on Apple TV+. "Here We Are: Notes for Living on Planet Earth", follows the story of a 7-year-old boy as he learns about the planet. The film was adapted from the best-selling children's book by Oliver Jeffers and is narrated by Meryl Streep.
Check out the trailer:
This is a prime example of a brand branching out from marketing their products to creating stories that will inspire people and get them talking about their brand. For Apple, this is just another piece of content in a library of media they've produced for their Apple TV+ streaming network, which launched last year.
4. National Geographic
National Geographic has launched a number of inspirational activities and content centred around their #NatGeoEarthDayAtHome campaign.
They have been sharing fun activities for kids to take part in at home, such as the Neighbourhood safari, which encourages them to learn about the diversity of animal life on Earth.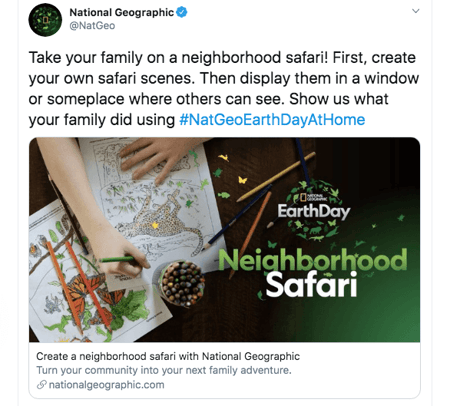 This month's National Geographic magazine is also dedicated to Earth Day. As this year is the 50th anniversary of the celebration, National Geographic is looking ahead to what the Earth will be like in fifty-years' time.
The front cover of the magazine cleverly presents two starkly different futures: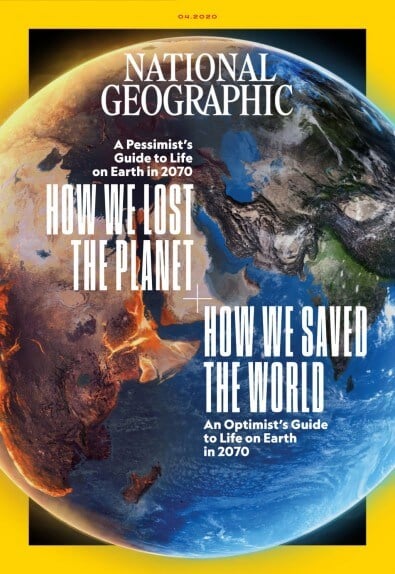 They have also created their first augmented reality–enabled cover, built using Instagram's Spark AR. Users can see climate data in a number of key cities across the globe and get a glimpse of what they might feel like in 50 years' time. If you're reading this on your phone, open the interactive image in your Instagram app.
5. Microsoft
Microsoft is celebrating Earth Day by launching two new theme packs for Windows 10 users. The themes are "Earth Day Natural World 2020" and "Earth Day Living World 2020". Each has more than 10 4K resolution free wallpapers for people to choose from.
6. Hyundai
Hyundai have launched their #DarkSelfieChallenge, encouraging people to turn off all the lights and take a selfie.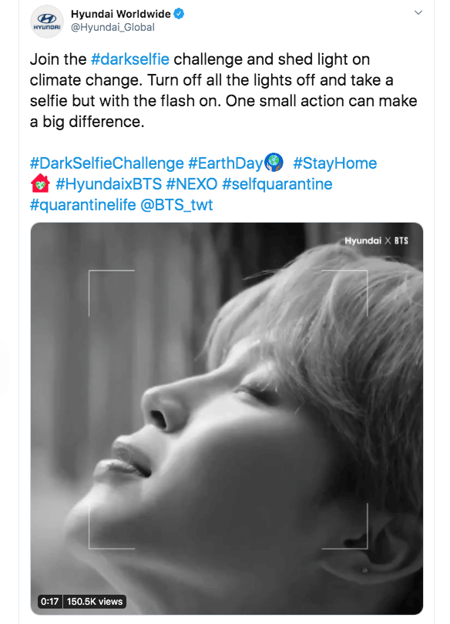 They have also teamed up with K-pop band BTS to create a series of films about the planet. The first was released on February 21 and the second was released today:
7. Budweiser Canada
Budweiser Canada have launched a new can to celebrate Earth Day this year, with part of the proceeds going to Earth Day Canada. The new can is accompanied by the message, "Even though we can't celebrate with our friends this year, we can still raise one for our beautiful planet." Just make sure you recycle it afterwards!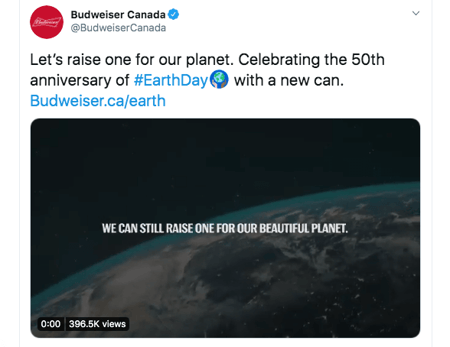 The coronavirus pandemic is causing more people to stop and think about the world around them. It's also forcing brands and marketers to be agile and think of new ways they can connect with their customers in a virtual world. And as all the above brands prove, it is possible to stay connected even when we can't be together in person.
Earth day celebrations are still going ahead despite the coronavirus outbreak. Raising awareness of your brand and engaging with your customers can too.