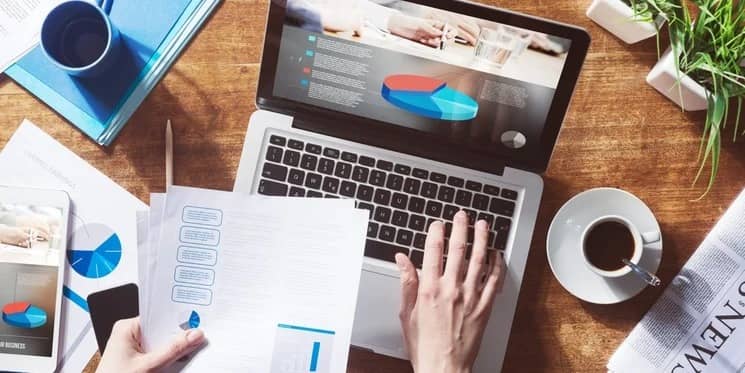 Research is regularly hailed as one of the most effective forms of content. Why? Because it encapsulates the very essence of thought leadership.
If you think about it, what better way is there to position your company as a voice of authority in your field than by sharing new insights on industry trends?
But carrying out your own research is an investment that can require a significant amount of time and attention. Perhaps that's why just 49 per cent of B2B marketers are creating research as part of their content marketing strategy.
However, it's not as difficult or demanding as you might think.
And research that delivers useful, relevant and interesting insights for your target buyers can be repurposed into multiple pieces of powerful content, making it the gift that keeps on giving.
In this blog post, we take a look at how to conduct your own quantitative research and transform it into a series of compelling content.
How do I carry out quantitative research?
Quantitative research typically consists of structured surveys that provide hard statistics. Surveys can be conducted face-to-face, over the phone or online.
Online surveys are the easiest, and arguably the most effective way of doing quantitative research. They are fairly easy to administer, are a cost-effective way of capturing the views of a large audience, and respondents can complete the survey at their own convenience - which is particularly handy for busy B2B buyers.
Many free online survey platforms exist, the best-known of which is probably Survey Monkey.
But before you get set up online, you first need to decide what you want to research. What do your customers and prospects want to know? What topics or issues are relevant to your target market at this moment in time? What burning questions do they have that you could find answers to?
Ask yourself these questions and use them to generate objectives - the key questions you want your research to answer.
You'll then be able to put together your survey questions and send them out to your customers and prospects to complete.
Once you've captured enough responses, Survey Monkey will generate the results for you. All you have to do is pluck them from your screen and use them as the basis of your content.
How do I turn my research into content?
The first thing you want to do from your research is to turn it into a written report. This involves looking at the survey results in the context of your research objectives and turning them into a clear and compelling story for your audience.
This report can become your first piece of content - an eBook. Add this as an offer on your website, email a download link to those on your subscriber list and share the landing page on social media.
But the opportunities don't end there. The options for repurposing your research are almost limitless.
Create a series of blog posts based around each of the key findings, along with another post that summarises the key themes. Highlight key findings in an infographic, Slideshare presentation or podcast - all of which are highly shareable across social media. You could also consider creating a video or webinar.
Is it all worth it?
For a B2B content marketer, incorporating quantitative research into your content marketing mix has a number of benefits.
As referenced at the start of this article, creating original B2B research enables you to demonstrate thought leadership and position your company as experts in your field. But it can also help you better understand your audience.
And if your research involves surveying your target buyers, it presents an opportunity to increase your outreach and grow your network.
Then there's the option to repeat your research on an annual basis. This way you can build up more interest by commenting on how trends have changed year-on-year. Build up enough of a good reputation and your research could become a much-anticipated 'go to' source in your industry.
In the content marketing world, Orbit Media Studios Annual Survey of 1000+ Bloggers and HubSpot's State of Inbound Report are prime examples.
Creating original B2B research content that is relevant, interesting and useful to your target market can mean huge rewards in terms of traffic, social sharing, and the overall profile of your company.
And as long as you have a clear idea of the kinds of trends you want to share with your audience and follow a clear structure, achieving success can be relatively straightforward.
If and when you decide to think seriously about creating your own research content, you may find it helpful to read our eBook "B2B Research Content: A step by step guide to doing it yourself", or one of our previous posts on the subject: