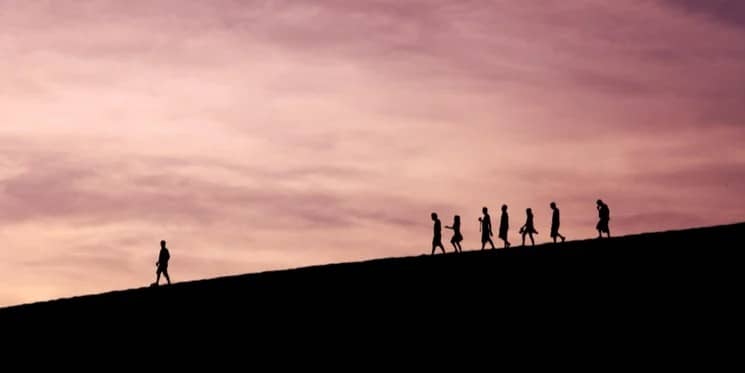 Everyone within a business has a role to play in your sales enablement strategy. From the marketing department who create remarkable content to the sales reps who use it to keep 'the flywheel' turning. Everyone should be involved in constantly iterating and improving the company's approach. But most companies find they also need a capable, project leader in place to keep the whole process on track and functioning.
What is sales enablement?
Sales enablement is the process of supplying your sales team with the resources they need to close more deals. These resources include the whole array of media assets from blogs and long-form content, to social posts, video, podcasts and webinars. This is what the sales team need to fuel and accelerate the sales cycle.
Challenges and opportunities
In the past, producing sales collateral was a manual process of analysis, creation and distribution. And it was largely 'interruptive' in its focus.
Now it's been accelerated and automated using inbound digital tools, and it's creating ever more, targeted content.
This is the personalised, curated collateral that:
Answers customer needs more precisely
Continually responds and adapts to changing customer behaviour
Informs, educates and delights in different ways
Serves customers in the formats and platforms they use and trust most
Identifies and supports key moments of customer need in the sales cycle through co-ordinated inbound marketing and sales efforts
But this kind of creative, inbound approach requires more planning, technical expertise and alignment between teams than ever before.
And as every buyers' journey is different, the approach to sales enablement needs to be unique to every company.
It's a business strategy not a product or checklist, after all. And it needs to be carefully applied and designed for your organisation if it's going to actually work.
Sales enablement needs a project leader
As sales and marketing teams look to more perfectly align the way they work to exactly meet their customers' needs, every company needs a project leader who will take responsibility to:
Set the overall strategy
Help define the required tech stack
Coordinate teams
Keep their approach agile and responsive
Report on success to iterate approach
So what are the qualities that make a great sales enablement leader?
Sales enablement needs an owner, and that person should be tasked to bring teams together and oversee the communication between them to keep content and sales strategy in lockstep.
They need to know the product and the customers inside out, they need to intimately understand the wants and needs of their audience and how the buyers' journey operates. Understanding the potential gaps in content and where opportunities lie is key to the continuous improvement of the strategy.
Leaders need to have a strong understanding of the digital tools available to them. They need to know what can be achieved with the available tech to:
They need to be data-driven. They need the analytical skills to be able to see where the gaps are in sales support - where sales reps are struggling to cut through and move prospects through the pipeline.
They need an agile mindset to respond to changing customer needs and new market opportunities as they appear.
They need an iron will. If the business is committing to enabling sales through content it's no good taking shortcuts. The business needs to go through the process of identifying and documenting buyer personas, customer journeys and lifecycle. If you don't do this groundwork you won't be able to strategise effectively.
They need to be strategic in focus. The business will be keen to get on with producing content and for this reason, it's easy for a leader to focus on execution ahead of strategy. But for sales enablement to succeed you have to have a strong vision of what needs to be achieved and some agreed KPIs before you kick off the creation process.
They will be a facilitator. You cannot force alignment between sales, marketing, and other departments. Sales enablement requires the total buy-in of marketing, sales, service, operations, and HR.
Sales enablement is above all, a team effort. And you'll need a charismatic team leader to bring the teams together, to keep the wheels of communication turning and to direct the strategy.
But of course, it can be a tall order to find and fund a manager with the range of skills and specialisms to do the job. So, most businesses end up appointing someone internally to oversee the project as part of their every-day duties. This can mean some compromises, most notably in the individual's detailed understanding of the tech stack and what it can achieve.
To support this kind of appointment you may need a more hands on approach from a sales enablement agency to help them deliver the results you need. The right agency can support as much or as little as you need with training and advice to fill in the technical and creative gaps in your manager's knowledge. They are there to help them with complex configuration, while developing the reporting that will give them the insights they need to drive their strategy.
Businesses need to be pragmatic and flexible as they develop their sales enablement strategy, using available resource where they can, but turbo-charging results with the right external support.