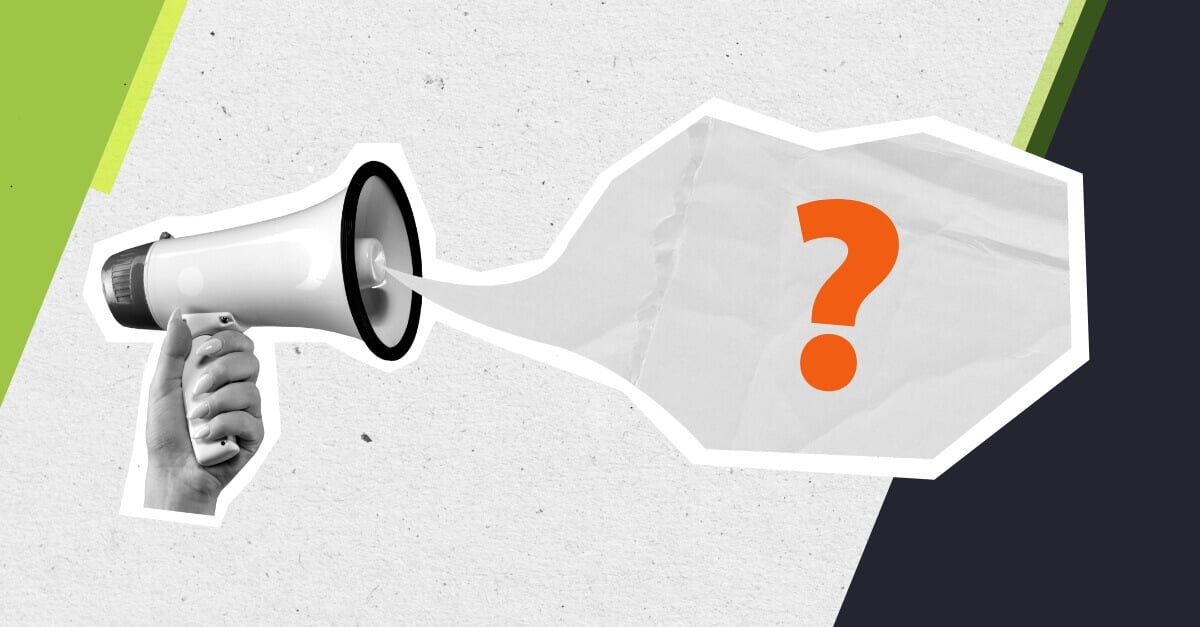 It's the ultimate question facing in-house marketing managers. Do you outsource, or can you build a crack internal team of marketing professionals to deliver on your brand and sales goals? Here are the pros and cons of outsourcing in a cash-strapped world .
SEMRush's 2022 research piece showed the main reasons businesses outsourced their marketing functions was a lack of internal resource and expertise.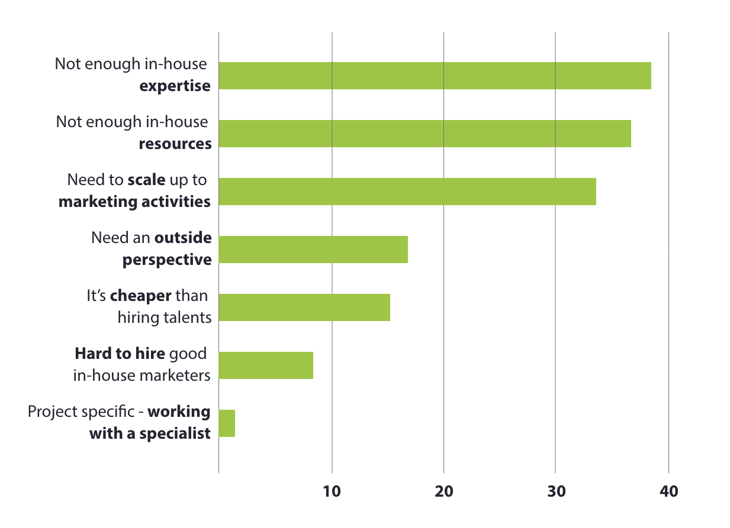 The need to access the right support is clearly a motivating factor for small teams, but there are other compelling reasons to recruit in-house. For some, accessing the budget to recruit an internal team feels like the most sensible way to control and future-proof the quality of their content.
What are the pros and cons of outsourcing your marketing?
The pros:
Expertise and experience
Agencies will bring with them knowledge and experience of many different marketing platforms, channels and campaigns. They can offer deep insight from other clients (and in your sector) about successful tactics and strategy. What's more, they can take all the hassle of design, execution and reporting away from you, whilst you take all the credit. Or at least they should. It's what you're paying for.
Flexibility and scalability
Outsourcing marketing gives you much more opportunity to flex and scale up when needed to meet aggressive targets, while pulling back during quieter times. Using multiple agencies and freelancers to work on a campaign basis can give you the ultimate flexibility to 'pay as you go'.
Cost efficiency
Employing an agency means none of the extra expense that comes with HR. No sick leave to cover, no pension payments, no payroll, no training expenses. Even if you're paying a retainer for a single agency - they still represent amazing value for money. The right agency will come with web designers, copywriters, social media experts and strategists. That's access to a full array of experts often for the equivalent cost of employing a single member of staff (or less).
Access to advanced and specialist tools
The right agency will bring specialised tools and proficiency to manage your marketing needs. This includes everything from analytics packages to complex ad-serving platforms, and even AI-powered planning and content production tools. Accessing and managing these resources might be hard for a small team, but a well-equipped agency can integrate these technologies seamlessly into the way you work.
Making the most of your CRM and CMS platforms
Research by Webfx says nearly a quarter of all businesses think their marketing platform is too complicated to use.
It's true that some companies who buy access to all singing all dancing CRM and CMS platforms like HubSpot never fully get to grips with them. But the right agency can help you optimise your use of the tools you are paying for. They can help you with lead scoring and automation configuration - they can give you the extra support and training you really need to drive ROI.
Fresh creative and strategic insight
An outside agency can bring fresh strategic perspectives and creative inspiration to business with only limited marketing resource. The right agency will be able to deliver big picture tasks as well as major design and digital projects faster than small in-house teams. They can help you conduct:
Keyword analysis
Market sizing exercises
Brand and website design
The Cons
1. Loss of control?
Many marketing managers don't like the sense of losing control of their domain. They want to be in the thick of it, directing operations and making important creative and tactical decisions to their own timetable. They don't want to be held back by internal spending restrictions or other company's availability to work.
2. Effect on morale
Existing team members can feel undermined by the use of partner companies to provide retained marketing and creative services. It's common for staff leave or become disengaged when retained agencies are bought in seemingly above their heads. Sometimes, co-operation and chemistry is hard to establish. Work is hard to get approved and productivity can suffer. The truth is, you need buy in at all levels for an outsourcing strategy to work.
3. Quality suffers
Sometimes, agencies just don't 'get it'. If you've got complex technical solutions to sell, it's hard for people outside the organisation to understand and express what you do for your customers. In-house content creators may be better at getting under the skin of your product and giving it a meaningful creative treatment. This problem can be endemic in B2B marketing. Forrester research found that 62% of B2B buyers say that vendor content is usually more "focused on style than substance."
4. Loss of oversight
If your business ends up working with different agencies on a per-campaign basis, it can be a nightmare to organise and build a coherent strategy. Some departments may even be working in isolation with specialist social media or advertising agencies to use spare budget or reach sales targets, With so many different strands to pull together, reporting can be a mess, lessons can go unlearnt and brand messaging can be all over the place. Keeping it all in-house might seem like the best way to get this under control.
5. Hidden costs
We've all been there. You start working with an agency and extra costs start emerging. Whether it's unexpected costs for software license fees or charges for meetings that you didn't know weren't included. As projects continue you can find monthly bills racking up and a growing sense of buyers' regret.
6. Communication Challenges
Depending on where you're outsourcing to, communication can sometimes be less efficient, especially with time zone differences. You may have cultural and language differences to overcome. Problems understanding briefs may cause delays. Written content may not hit the mark.
7. Dependency
Over-reliance on an agency can cause problems if the relationship ends or if the agency underperforms. There's a lot riding on these partnerships and where a single partner is retained a lot of eggs can end up in a single basket.
The AI-lephant in the room
The reality is no modern marketing team can do everything on their own and in-house. Even the biggest companies outsource at least some of their marketing - including Hubspot itself.
For a small team with limited budget, outsourcing graphic and website design, digital marketing projects and content projects on an ad hoc basis, maybe one way of controlling budget and keeping control of quality.
But with the proliferation of AI tools, it may soon be possible for smaller teams to increase their capacity and productivity without swelling their numbers too drastically. With content ideation, keyword research, brief creation and reporting all possible at the touch of a button, the use of retained agencies may become a thing of the past. Although, with AI, it might be as well to temper your expectations, while the hype cycle plays itself out.
Which way should you jump?
Retained agencies are still a fantastic resource and much appreciated by the businesses who use them. With careful selection and management, you can right-fit an agency to your needs, and use all their expertise to fast-track your growth in ways that just wouldn't be possible otherwise.
But the right agency can also operate as the catalyst for change in an organisation without necessarily running the whole show. In the first place they can act as consultants to help you establish an agile positioning, branding and marketing strategy that reflects a fast-changing landscape. Then they can work to put the tech stack, plans, and processes in place that your team can run with to meet their own goals.
One thing is for sure, though. Tactical outsourcing may solve short-term problems. But unless you make these decisions with strategic objectives and oversight in mind - the wheels may very quickly start to fall off.