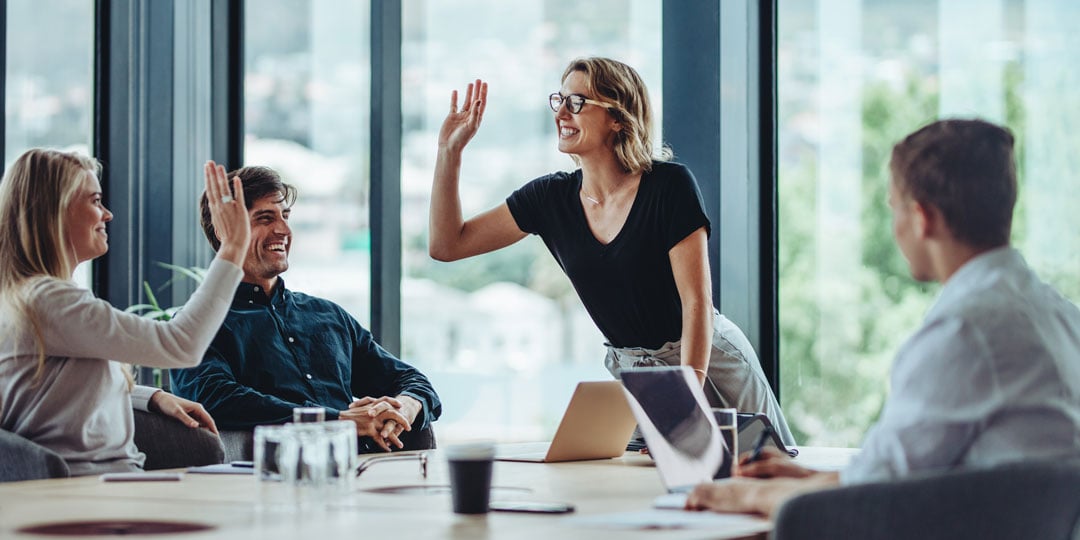 Spreadsheets and email: how sales and customer relationships used to be done. But they are inefficient. We end up spending more time on admin than growing the business, and there's also the ever-present risk of human error. Luckily, CRM software resolves all these problems and allows teams to work towards common goals.
What is CRM?
CRM stands for "customer relationship management" and is a software system that helps you manage relationships with customers. You can use it to record information about customers, which can then be accessed by multiple people in your organisation to improve your marketing and sales efforts.
For example, when a customer downloads one of your manufacturing eBooks, they will enter their contact details. A CRM allows you to record the information you have learned about the customer and target marketing efforts based on customer needs.
Why use CRM?
A CRM system helps you centralise, optimise, and streamline your communication with customers. It can benefit your business in myriad ways, but here are four of the big ones:
It gives you a better understanding of your customers. By having complete customer information stored in one place, personalising communication becomes easier. It will also allow you to better understand what your customers want.
It helps you with customer retention by reminding you about appointments and when to send emails. It also helps by prompting you to reach out to customers who have not been contacted in a while.
It allows you to have better and quicker communication by offering you customisable templates for emails, letters, documents, proposals, and quotes.
It offers you better protection of data privacy by having an inbuilt General Data Protection Regulation (GDPR) function. This will save you a lot of time and effort to be legally compliant.
What is CRM implementation?
CRM implementation is when you use CRM software to manage communication with your current and prospective customers. Contact manufacturers generally decide to start CRM implementation as they are trying to increase sales, grow leads, and improve customer satisfaction.
To reap the benefits of CRM implementation, follow these four steps:
1. Understand why you are implementing your CRM
To know why you are implementing your CRM, it is important to understand what problem you wish to solve as well as what goals you want to achieve.
Ask your team the following questions to find common answers:
Can we be more productive and efficient?
Does our team need improved collaboration?
How can we provide better customer service?
Can we improve our ability to upsell and cross-sell?
Do we need an improved understanding of existing and potential customers?
After answering the questions, take a step back and think about why the answer is important. By understanding this, it will be easier to consider the key features you want from CRM software, which could include:
Workflow automation
Customisation
Third-party integration
Customer service
Employee tracking
Social media
Lead management
Real-time data
Analytics
Pipeline visualisation
Email tracking
Automated follow-ups
2. Find the solutions that meet your requirements
Now you have a better understanding of why you need CRM software and what features you might need, it's time to find the right CRM for your business.
Perhaps defining the type of CRM you need would be a good place to start: do you want a sales-focused CRM or a service-focused CRM to help manage customer support? Working out a list of people who need to use the CRM will ensure that it can be configured for everyone and suit all your requirements.
When looking around for the right CRM, it might help to ask yourself the following questions:
Does the CRM work with your existing processes?
You already have a successful set of processes and workflows in place. Implementing CRM software that involves changing all these could be detrimental to your business.
The right CRM should let you customise your settings based on how you already work, including your sales process and pipeline.
Will your choice of CRM work with your existing hardware?
Most CRM software is cloud-based and will work with your preferred browser and operating system. Certain CRM software can connect to your phone system, so it would be advisable to ensure that it is compatible with what you have.
Is the CRM software within your budget?
CRM software is generally charged per user per month (or year), so you can calculate the price based on your number of users. Don't forget to factor in expanding your business and how this might affect future costs.
Does the CRM integrate with your emails and calendar?
Any system that doesn't offer integrations should be avoided. A CRM that integrates with Google or Outlook can save you hundreds of hours over the course of a year on data entry.
Make sure to discover what integrations you need. For example, will your sales emails and customer meetings automatically sync with the CRM? The purpose of a CRM is to make processes more efficient, not to be more time-consuming.
Will all your communication channels work with your choice of CRM?
Your emails sync, but what happens when your customer wants to use your live chat? If these conversations have to be viewed separately, efficiency is lost. You need a CRM that integrates every communication channel you use to have all available information about your customers.
3. Set up your CRM
Once you have selected the right CRM that meets your needs, you can establish a timeline and start setting up the CRM.
There are four main steps to having fully a implemented CRM:
Backup and migrate your existing customer data
Take your existing data, from wherever you have it stored, and import it into the CRM. The whole process should last less than 24 hours, but you might need to check the information after completion.
Perhaps start by importing a small set of customer data to ensure that it is correct for your needs. For example, do you need to add custom fields to categorise customers correctly?
Customise your CRM
Although you chose the CEM with all the features you need, you still have to customise it. Consider the following:
Permissions for various roles
Custom fields
Automations (follow-ups, reminders, etc.)
Your sales pipeline stages
Templates
Filters
Run custom test reports
Based on the data you already have, run reports that will genuinely help. Start with a general report like total sales or forecasted sales as you can easily check how accurate and useful they are. The first round of custom reports should lead to further customisations.
Give your teams training to use the CRM
A CRM is only as good as the people who are operating it. Some people may be reluctant to use it, so a combination of training methodologies may be useful. For example, face-to-face training should be combined with self-learning tutorials and videos. Ensure everyone has the time and resources to acquaint themselves with the CRM.
But don't stop at only showing your team how to use the CRM. Demonstrate what your contract manufacturing organisation plans to do with it. Show them how it can help give answers to the following questions.
How can we measure results through key performance indicators (KPIs)
How can we evaluate the usefulness of the CRM
What are your goals?
What is the customer journey?
4. Implement CRM and monitor the results
You have done the hard work, so it's time to implement the CRM system. If you completed the previous steps thoroughly, then this should be easy. Remember, you are doing this to increase sales, improve customer satisfaction, and grow profits.
After a while, you will gain valuable knowledge on how successful your initial CRM implementation was. Is it helping your sales, efficiency, and customer satisfaction? Is there anything you need to do more or less of? Ask as many questions as possible for continuous improvements.
And remember, you will need an ongoing process for users to provide constructive feedback to improve their experience.
Creating a form in the CRM is an excellent way to provide users with a structured way of recounting their experiences. You can also leave a space for them to provide their own comments. Make sure that someone takes control of reviewing the comments and responding, as this will make users feel as if they are being supported.
When you strengthen engagement with your CRM, it becomes an even more powerful tool for your business.