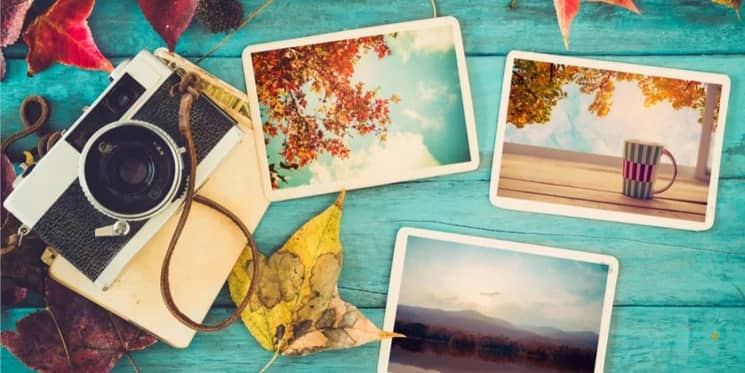 Today, images are a priority when it comes to bulletproof content marketing strategies. Visual content tends to generate more engagement than written content - partially because pictures are so memorable, easy to consume and easy to share. They are perfect for sharing a message that sticks.
But how do you curate photo albums that will intrigue the target audience for your business and deliver consistent branding across the most popular social media networks?
Nobody wants to be called predictable. But sharing images that aren't relevant to your brand will confuse your audience. As part of your inbound marketing strategy, you first must set up a style guide defining the tone of voice your business uses on social, the colour schemes you'll employ and various visual themes you intend to cover. This will help to keep your branding on point.
Here are some album ideas your marketing team could choose to focus on:
Company history
Every business has a unique origin story. A photo album dedicated to your company history is a stark reminder of your roots, your progress, and your commitment to success. Visual content revolving around this is full of flavour and doesn't lose its value over time.
Share your memories of how it all began. Your story is something that can be enjoyed by prospects, customers and employees equally.
A tour through your history can help show prospects understand how your company was founded, what you have achieved and why you are still a fierce competitor in the market.
One of the benefits of this type of album is that you can update it continually as you grow and achieve major business milestones.
Focal points might be: your first headquarters, your first sale, your founders or a pain point that triggered it all.
Corporate events
B2B social media is the ideal place to share pictures of the events and conferences you sponsor or attend.
Capitalise on the connections you make by documenting your experience, tagging your images and making it easy to find and reconnect with people. Hiring a professional photographer may improve the share appeal of your images.
How you engage with the community reflects your company values and has a strong influence on your brand development. If you are active in supporting charity, use social to spread your positive message.
Photography can help boost awareness when you take part in a fundraiser. Include relevant links in the description. This will help your audience to learn more about the cause, and illuminates ways for them to get involved.
If you are an event host, note that sharing images of your events can also boost future turn-out. Remind attendees of the fun they had and show others what they missed out on. This will encourage them to join you next time.
Re-engagement after a corporate event can be just as valuable as that first encounter. Away from the hubbub you can continue to nurture young business relationships, explore ideas, share useful content and ultimately prompt buyer action.
Office life
Emotion is a huge driving force in successful inbound marketing campaigns.
You can use social media to showcase your employees and give a friendly face to the company.
A dedicated and relatable workforce are an asset that can give potential customers a better idea of your vision and values.
Have fun with it! What are you working on this week - are there exciting things in the pipeline? Has a coworker achieved something outstanding? Have you got a top tip to share?
At Equinet, we very much love sharing pictures of our 'Inbound Hound', Woody. Taking your audience behind the scenes is an easy way to connect with customers on a more personal level.
Your product or service
You can use a photo album to showcase your product, or people using your product. Perhaps you could show it being used in an unexpected way, or use striking imagery to throw a spotlight on your USP.
In this case it is very important to ensure that the image quality is high. Show your product in its best light. It will look unprofessional if you post poorly lit, unframed or unfocussed photographs to promote your product or service.
If you do share images of this kind, be sure to link the image to your website so that interested buyer personas know where to go to find more information or make a purchase.
Fans of your business
Your customers keep your business afloat, and showing appreciation towards them promotes brand loyalty. It also engenders trust in prospects who are researching your business.
Images on social media can be used to highlight and celebrate people from your fanbase.
If you have been sent images of happy customers, and people using your product, why not make an album dedicated to them. This is a simple way to put your customers at the foreground of your business and promote interaction online. Just make sure you ask for permission to feature their image.
Alternatively, you could turn your favourite testimonials into an illustrated graphic. Placing a short quote on a faded image or bold colour instantly makes your message pop. You can then add a link to your customer testimonial page in the image description.
An album packed full of happy customers and their experience will make your business shine. It also makes it easier for prospects who are actively seeking feedback to find and view reviews.
Competitions and opinion polls
Increase interaction with your audience by creating a contest, survey or poll.
When followers comment, like or share your posts on social media that increase exposure to your content by inspiring more people to look at it. That is why online engagement is sought after by marketing experts.
Start a conversation with your audience using relevant images to catch the eye. Asking questions is a great way to generate interest and learn more about your buyer personas, their attitudes and their preferences.
Where you share your pictures will depend heavily on where your buyer personas spend their time online.
More than 300 million photos are uploaded to Facebook per day. And photos on facebook generate 53 percent more likes than the average post. Photos are great vehicles for engagement.
Creating a Facebook photo album takes just a few simple steps.
Photo album best practices
Post often
Consistent posting is crucial to keep people engaged with your page. Creating an album generates an automatic update in your followers' news feeds. Adding images at least once a week will boost social engagement.
Include helpful links
You can use your images to direct users to gated content. If you have a blog post, ebook, white paper, case study, or landing page that is related to the image or album you're posting, don't be afraid to include a link in the image description.
Engage with your audience
Don't ignore people who reach out to you or they will most likely stop commenting on, liking or sharing your photos and posts. Reply to your audience. Be friendly, answer questions, suggest helpful content and give advice wherever appropriate.
Follow the guidelines above and discover how you can use photo albums on social media to expand your influence online.