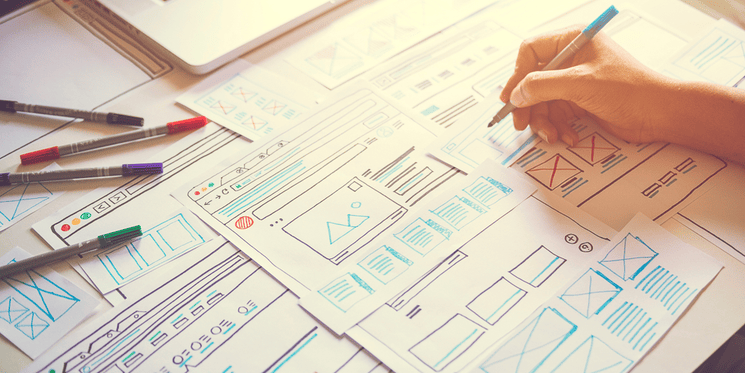 Imagine you are a shop owner, selling to the general public. As the centre of your business, the building itself would be somewhere customers feel comfortable, at ease, guided by clear signage and top notch customer service advisors. Shelves would be stacked in an orderly and strategic manner, items would be priced clearly, and staff would be friendly, helpful and available.
What's more, the store would be clean and warm (or cool, depending on your hemisphere...), with an engaging and attractive interior that is aligned with your brand identity.
The reason I paint this picture is because your website deserves the same investment.
With B2B marketing, this is more important than ever. Competition is rife and with savvy digital marketing agencies backing many B2B businesses, small mistakes on your website could lose you big business.
Here are the 10 most common mistakes we often see which are incredibly easy to avoid. You just need to be armed with the right knowledge and an understanding of UX (user experience) best practices.
Out of date contact details
First and foremost, how can prospects get in touch if your contact details are out of date, or if no one is checking the inbox to which they are directed (for example, info@companyname.com)?
Surprisingly, this is a common mistake. Getting wrapped up in the bigger picture can cause you to overlook something as simple as contact details, so make sure you're regularly cross-checking and updating this section.
Using your blog as a news platform
Utilising your blog as an advertorial platform is a mistake that could be costing you vital opportunities to capture leads. While the odd, relevant news story or press release is ok, your blog is an opportunity to showcase your expertise and nurture prospects. Self-indulgent posting that provides no value to your prospects will only defer them from staying engaged on your website.
Meanwhile, your blog is there to serve you as your SEO catalyst. Drawing on your knowledge and blogging around solutions and questions that your prospects need answering will attract viable prospects before they even know they need you.
Not optimising for mobile
Sounds obvious, but how many times have you visited a website on your mobile only for the text and images to not render properly? You'll know from this experience that it's not a website you'll want to stay on.
52.4% of website traffic comes from mobile devices. Imagine losing over 50% of your traffic because your website renders poorly on a mobile device.
Invest in a great mobile experience. This number isn't likely to fall, and the same goes for eNewsletters and any other digital content you produce.
Poor quality images and photos
As your first touchpoint with many customers, you simply cannot risk using low-quality images that will tarnish your professional image. Photos taken on iPhones or 'borrowed' from search engines are not going to be sufficient, particularly if they are not free of copyright. There are plenty of online databases that provide libraries of free, high resolution imagery.
Keyword stuffing
Keyword stuffing will harm SEO and your reputation. Not only will it read unnaturally, and make your content appear incoherent, it tells prospects you're not serious about your site's reputation.
While it may seem logical to try and catch traffic for particular topics and keywords by placing them wherever you can, Google's algorithms are growing more sophisticated by the day and will recognise and penalise any offenders.
Best practice is to write naturally, with a keyword density of around 3% (3 keywords per 100 words), so it's probably less than you think you need. Don't forget meta descriptions, URLs and alt tags are taken into account too. If in doubt, go with your gut. Consider if it syntactically make sense?
No calls-to-action
No calls-to-action or no clear calls-to-action can lose you conversions. Calls-to-action help guide the user through the buyer's journey tapping into their needs at various stages of the journey.
Too much jargon
The terminology you use every day may not be common knowledge to new prospects. Simplify your language where possible. Potential customers will be lost if you baffle them with jargon and esoteric language. Cut anything superfluous.
Writing the copy yourself
Following on from that, since you know your business inside out and know what your customers want, it makes sense for you to write the entire website yourself, right?
Actually, an experienced copywriter will be adept at online writing and able to take a more objective view at how you position your company compared to competitors. Writing for the web is a skill in itself, what you need to say and where. They will be able to map copy to the buyer's journey, and they will be be able to construct headlines and conversion copy, and write to motivate, engage and persuade.
Neglecting site architecture
A good site architecture links disparate web pages either by topic clusters or and internal link structure. Are there other blog posts or pages that can support pieces of content, or that will prove helpful to the user?
A strong site architecture resulting from link chains, topic-based content clusters and regular auditing will prove highly valuable for both SEO and UX (User Experience) purposes.
So now could be the time for a site audit. Take all of these elements into consideration. You could also use tools such as SEM Rush and Moz to analyse the SEO of your site and get you on the right tracks. In the meantime, we have written widely around this subject.